LancasterHistory.org Museum Stores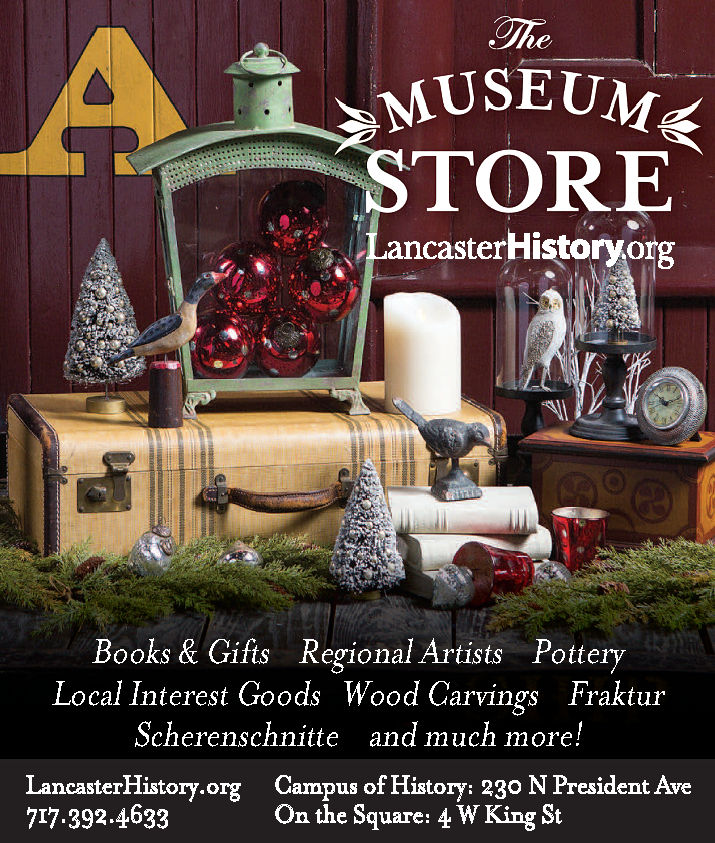 We invite you to stop into our Museum Stores, located at our main headquarters at 230 North President Avenue and in the City of Lancaster at 4 West King Street. Both stores offer unique and special home decorative items and related books to Lancaster's rich history. There are numerous local artisans who contribute to our wide variety of contemporary and folk art, including; scherenschnitte, fraktur, tinware, painted birds and small decorated chests. The store carries seasonal items, as well as specialties related to President James Buchanan and his estate at Wheatland.
Hours of Operation
230 North President, Lancaster
Monday - Saturday from 10am - 4pm
4 West King Street, Lancaster
Tuesday - Saturday from 10 - 4pm
Current Sale
There are no sales going on at this time.
Gallery at 4 West King
LancasterHistory On the Square also features a small gallery. The latest exhibit in the gallery, Digging Lancaster, looks at the historical archaeology of Lancaster and the various techniques that archaeologists use to learn about the history of our county. The gallery is free and open to the public.
Directions & Parking
There is plenty of free, off-street parking at our Museum Store at 230 North President Avenue.
To visit our downtown store at 4 West King, there is parking available in nearby parking garages or on street. Valuable downtown transportation information is available via Red Rose Transit Authority, including information on Bus Schedules and Fees, "Free Fares" for seniors 65 and older, Park and Ride options, and Discount Passes.
Click on the Green and White Arrow icons for more information about nearby parking lots. Type in your starting location in the box below the map to create a driving route to 4 W King or to any of these available parking locations. Costs of parking vary by lot.
There is also metered parking along some of the streets. Be sure to note that much of this streetside parking utilizes centralized kiosks for payment. For more information visit The Lancaster Parking Authority.