One of the newest additions to the Tanger Arboretum is the "American Conifer Society (ACS) Reference Garden."
This came about by a wonderful confluence of events: Being a lifelong admirer of trees, and a member of the ACS, I was aware of the unique beauty of select conifers and of a program by the ACS to help support the installation of such a garden.
Also, I was a "Friend of Tanger Arboretum" and saw the opportunity to include a reference garden in the comprehensive plan for the 10-acre History Campus. The reference garden was included in the plan at a beautiful location. Howard Kauffman located large rocks, proper soil, and stepping stones and built a beautiful canvas to display (plant) dwarf and miniature conifers. Fritz Schroder installed great pathways and Jeff Hazlett mulched the entire garden. Select trees were ordered and planted and plant identification tags were ordered and installed ....and voila ... an exemplary Reference Garden!
This may not have been accomplished without the vision and support of the American Conifer Society. Many thanks to them!
**For more information please visit...www.conifersociety.org
Conifer Facts:
Size – Growth rate Miniature - < 3 inches per year
Size – Growth rate Dwarf – 1 to 6 inches per year
Size – Growth rate Intermediate – 6 to 12 inches per year
Size – Growth rate Large – > 12 inches per year
What is an ACS Reference Garden?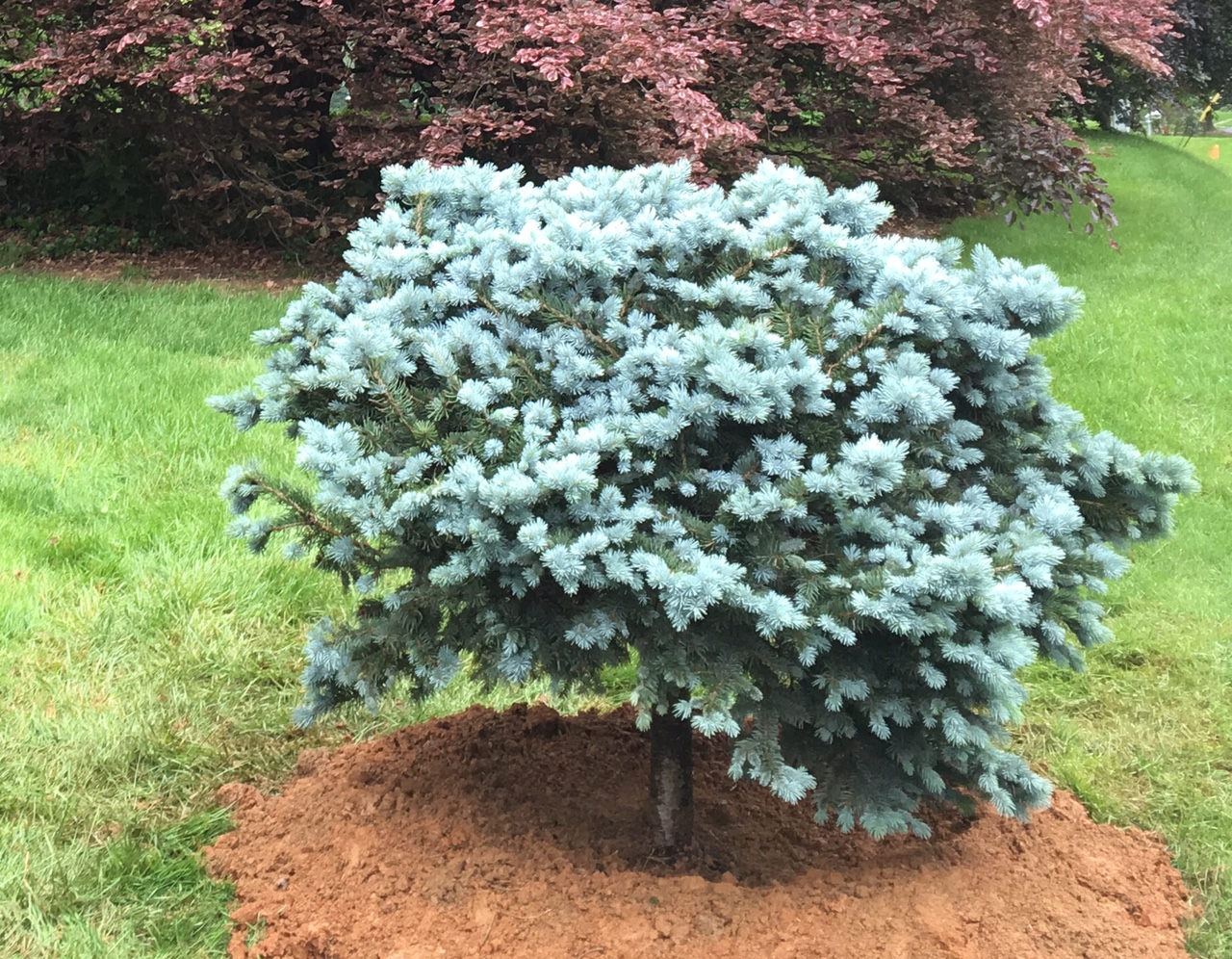 The grafted Colorado Blue Spruce.Since 2008, the American Conifer Society has been partnering with public gardens throughout the United States to recognize noteworthy conifer collections through a special designation, the ACS Reference Garden. These gardens provide wonderful opportunities to educate the public about growing conifers, using conifers in a home landscape, and building enthusiasm about conifers and the American Conifer Society. To receive a Reference Garden designation, a garden must meet several criteria, including the number of conifers in their collection, accurate labeling of the conifers, and proper maintenance of the conifer collection.
The Reference Garden will always be evolving as trees grow and new ones are added. The newest specimen tree is a Picea pungens 'Glauca Globosa' on a 3 foot standard (a round shaped, slow growing, very blue, Colorado Blue Spruce grafted onto a 3 foot high root stalk to give it height). It is located adjacent to the Reference Garden along N. President Avenue and is easily visible from the road. See photo.
Enjoy the gardens,
Bob Davis
---
Written by Bob Davis, Tanger Arboretum