The Louise Arnold Tanger Arboretum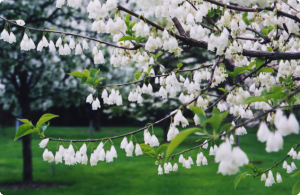 The Louise Arnold Tanger Arboretum on the grounds of LancasterHistory.org was designed by Gustaf Malmborg of Manheim, PA. Malmborg also designed the beautiful grounds of the Masonic Homes in Elizabethtown, PA.
Sporting 104 mature varieties of trees, the Tanger Arboretum is open to the public as a place of rest and relaxation. Its constantly changing form and texture makes an inviting spot to spend time enjoying the everlasting beauty of nature.
When the Willson Memorial Building was constructed in 1956, its neighbor and naturalist Louise Arnold Tanger approached the Board of Trustees with a request to be allowed to plant trees on the barren grounds surrounding the building. They agreed and invited Mrs. Tanger to join the board where she took charge of the grounds until her death in 1959. At this time, her son Charles took her place and served the historical society as its naturalist for many years until his death in 1991. Following Charles Tanger's death the trustees of the historical society established the group known as "The Friends of the Tanger Arboretum" for the purpose of creating public interest and support for the maintenance and development of this community asset. A master landscaping plan was designed, tree labels were added and a map developed for self-guided tours.
The Friends of the Tanger Arboretum is a membership organization with its own Board of Directors. Each year the organization holds an annual dinner meeting in the spring, an Arbor Day celebration the last Saturday of April and a Fall Clean-Up Day.
If you are interested in membership, download, print and mail an arboretum membership form.
For more information, contact:
Friends of the Tanger Arboretum
c /o LancasterHistory.org
230 N. President Ave.
Lancaster, PA 17603