Admission & Bookings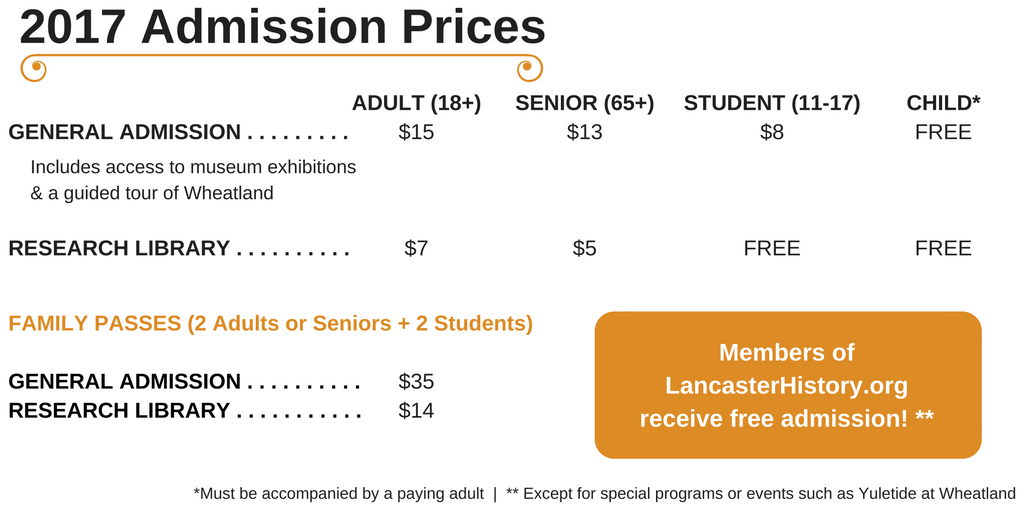 Booking Your Visit
As of January 2017, LancasterHistory.org offers "General Admission" tickets. With a General Admission ticket, you receive access to all of LancasterHistory.org's museum exhibitions AND a guided tour of President James Buchanan's Wheatland. When you purchase your ticket, please specify the time of day you would like to tour Wheatland through our online booking system (accessible by clicking the "Tickets" button below) or by calling us over the phone at 717-392-4633.
We highly recommend booking your tickets in advance, especially during the summer months, holidays, and the holiday season as tours often do fill up and walk-in spaces are not guaranteed.
To book your tour online, please click the small box below.

To book your tour over the phone, please call 717-392-4633 to speak with a Visitor Services Associate. We do not accept reservations over email.
Group Tours
If you are interested in planning your visit for a Student Group (ages 6-13) or Adult Group (10 or more paying adults), please visit our Group Tour Information page. If you are an educator or school administrator and are interested in bringing a school group to LancasterHistory.org or Wheatland, please visit our School Group Tours page for more information or to download a brochure of offerings.
---
Admission & Bookings FAQ (Frequently Asked Questions)
Q: Do you offer any discounts off admission?
A: We currently offer admission discounts for cardholders or members of AAA, veterans, and active duty military personnel. If you are one of those three, please present your ID at the front desk upon purchasing tickets. You will then receive what is typically our "Senior" rate of $2 off adult admission. Please note, however, that none of those discounts are offered during our holiday season. We are also not part of the National Park Service and do not accept any of those affiliated membership discounts.
Q: How long are your tours? How much time should I expect to spend here?
A: Tours of Wheatland are typically 50 minutes to an hour in length, and generally depend on how many questions visitors ask. All tours of Wheatland are guided tours. There are NO self-guided tours of Wheatland. The Exhibit Galleries, unlike Wheatland, are self-guided so how much time you want to spend in the Exhibit Galleries is up to you! We generally recommend allowing yourself 30-45 minutes to explore the Exhibits. You can spend as much time as you'd like in the Research Library, but we encourage you to wrap up your day's work approximately 15 minutes before closing time so you do not feel rushed gather up your items and leave.
Q: Are you canine friendly? Do you allow service dogs to enter?
A: Yes to both questions! The Campus of History is canine friendly and we welcome owners to walk their dogs on the property. However, we encourage owners to supervise their dogs at all times and keep them on leash on the property for the safety of your pet and other visitors. Unless the dog is a service animal, we do not allow pets into the buildings. Service dogs are allowed into the Stauffer Building and into Wheatland. For pet waste, there are two doggie waste bag containers at both ends of the property: one behind the Carriage House near the parking lot and the other on the side of the Stauffer building facing Marrietta Avenue. Please responsibly pick up after your dog and throw away the waste and/or waste bag in a trash can or dumpster.
Q: Is LancasterHistory.org/Wheatland a National Park or National Historic Site?
A: Both LancasterHistory.org and Wheatland are not a part of the National Park Service system or a National Historic Site. Therefore, we do not accept discount cards or membership cards for the National Park Service. Wheatland is, however, a National Historic Landmark (designated in 7/4/1961) and on the National Register of Historic Places (designated in 10/15/1966).