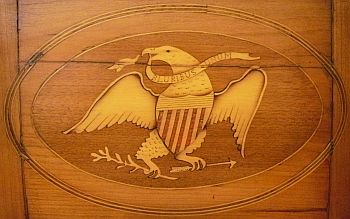 County, Commonwealth, & Country, our newest exhibit on display in the Groff Gallery.
Funded through a grant from the Richard C. von Hess Foundation, County, Commonwealth, & Country begins with the idea that local history provides a lens for viewing the broader American story. By looking closely at the objects from our collections, County, Commonwealth, & Country intertwines the stories of Lancaster, the Commonwealth of Pennsylvania, and the United States of America. In fact, many of America's foundational principles—liberty and freedom, tolerance and diversity, democracy and the political process—were molded and shaped in Lancaster County, Pennsylvania.
From the county's beginning as a part of William Penn's unique experiment in religious freedom and cultural pluralism, to its critical role in the emergence of national democratic politics in the 19th century, Lancaster County's story chronicles the many ideals that formed and transformed our state and nation. Our county tells stories of varied immigration and migration, tolerance and struggle, slavery and race relations, and the ever-changing saga of democratic politics in a nation that is still, on an international scale, in its political adolescence. The story of the county becomes the story of America.
Be sure to visit the Groff Gallery and take a close look at the objects in our collection and learn how even the smallest object can tell the story of our nation in County, Commonwealth, & Country. Also, be sure to go to the Lower Level and examine the many objects that are housed in the open storage of the Richard C. von Hess Foundation Decorative Arts Center.