LancasterHistory.org is your comprehensive history center for Lancaster County history!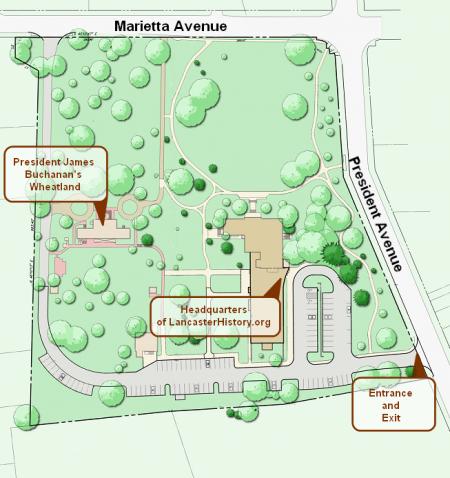 The Campus of History
Visit the park-like setting on the ten-acre Campus of History featuring the historic grounds and gardens of President James Buchanan's Wheatland, the Louise Arnold Tanger Arobretum, and the award-winning, and environmentally-sustainable headquarters of LancasterHistory.org.
At the Campus of History, you can visit the Exhibit Galleries, conduct research in the Research Library, shop at The Museum Store, and attend our many events (many of which are at low cost or free!).
President James Buchanan's Wheatland
Learn about the life and legacy of James Buchanan, the 15th president of the United States, and the family he raised at his beloved home, Wheatland.
LancasterHistory.org On the Square
We invite you to stop by our museum store and gallery at 4 W. King Street, in Lancaster, PA. The store carries locally made contemporary and folk art and seasonal items. A small gallery on-site is currently exhibiting, Digging Lancaster, which features a look at the historical archaeology of Lancaster and the various techniques that archaeologists use to learn about the history of our county.
Thaddeus Stevens & Lydia Hamilton Smith Historic Site
While this historic site is not currently open to the public, visitors may get a glimpse of a part of the inside of the building and view the interpretive panels which are located in the Vine Street Entrance Lobby of the Lancaster County Convention Center
---
For more information, we encourage you to check out these links:






If you have any questions about LancasterHistory.org or in purchasing your tickets in advance, please call 717-392-4633 to speak with a Visitor Services Associate.