Quilts and Textiles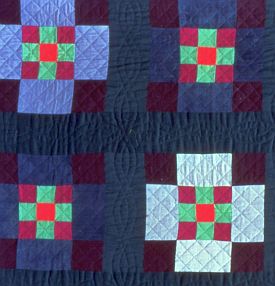 LancasterHistory.org's collection of quilt and textiles reflects the influences of Lancaster's 18th century English and German origins. Our collections also depict centuries of influences from surrounding neighbors and travelers to our region.
An important component of our quilt and textile collections is the Esprit Collection of Lancaster County Amish Quilts. This collection of eighty-two Amish quilts was the brainchild of Doug Tompkins, a founder of the Esprit Corporation, who began collecting the quilts during the 1970s. Produced by Amish women in Lancaster County between the 1870s and the 1940s these masterpieces provide a perfect window to examine the lives and culture of the people who created them.
Explore the rich and diverse textile traditions of Lancaster County and south-central Pennsylvania through our rich and diverse collection that celebrates the role of textiles in the past, present, and future.
How to learn more about LancasterHistory.org's collection of Quilts & Textiles
COMING SOON! Videos available on site and online at LancasterHistory.org/quilts
COMING SOON! An on-line workshop and on-line collections access are available to members of LancasterHistory.org through our website at LancasterHistory.org/quilts
One-hour quilt turning session with our curators and trained volunteers. This White Glove Tour of our collections is available by appointment. Click Here more information.
COMING SOON! An evening workshop highlighting 50 objects from our Quilt and Textile Collection. Visit LancasterHistory.org/quilts for more information.