Mary and Thomas Cope
A true love letter contains personal revelations, the desire to know the other's feelings, past events, future engagements, and the desire to be together. Its language creates a vivid image of the writer's feelings. In the past, romantic letters combined expressions of affection with information about family and friends, local news, concerns, advice, and daily chatter. Letters were often the only means of communication when couples were apart.
---
A Dream of Love
Judge not my beloved Friend, from my silence, that thou art absent from my thoughts-waking & sleeping, I commune with my far distant Love; and copious are the effusions I mentally pour into his unconscious ear. Last night he appeared to me in a vision, like a sudden apparition; he kiss'd me many times with great fervency but still greater haste; he did not even tarry to sit down; and was gone again on some unxplain'd momentous business swifter than a meteor in a summer sky.
Thomas P. Cope (1768–1854), a Quaker originally from Lancaster, was the son of Caleb Cope. He was apprenticed to a dry goods merchant in Philadelphia at the age of 17. He became one of Philadelphia's wealthiest citizens as a merchant, politician, and active philanthropist. Mary Drinker (1766–1825) was the daughter of a prominent Quaker in Philadelphia. Mary and Thomas were married in 1792.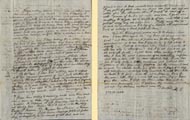 Mary went on to tell her husband how disappointed she was in not yet receiving a letter, and ended by teasing him about her habit of staying up late and wishing for his return. This letter gives the impression that she wrote very much as she may have sounded in conversation with her husband. Many letters of the time, even between lovers, were slightly more formal or reserved—which may also reflect the personality of the writer.