Obligatory Rambling Preamble: It is Halloween week, so you know what that means! It's a perfect time for all of us who are normally so dignified (… or not) to dress in some outlandish get-up and show ourselves in public with zero fear of social retribution. At the end of October, it's perfectly acceptable to relentlessly jam candy in your pie-hole and wear extreme outfits. Personally, as far as those costumes go, I'm a huge fan of allegorical costumes or those laden with irony. As such, I'd fit perfectly into the Victorian Era, and you'll see why in a moment. As fun as all this autumnal festivity is, I regret that it passes too quickly.
Our society is always in a hurry to get to the Next Big Thing. Case in point: It's not yet Halloween, but it seems like everyone is already talking about Christmas. (Never you mind Thanksgiving, my favorite forgotten holiday). I say, let's put a stop to the madness for a moment and focus on right now. Yes? Yes.
Halloween, "All Hallows' Eve," or even "Hallowe'en," if you will, is one of those "holidays" that seems like it's been around forever. However, if we were to walk up to President James Buchanan and ask him what he's wearing to the big Halloween party, he would look at us like we had two heads (Which, in context, might mean that we are wearing some pretty awesome costumes!)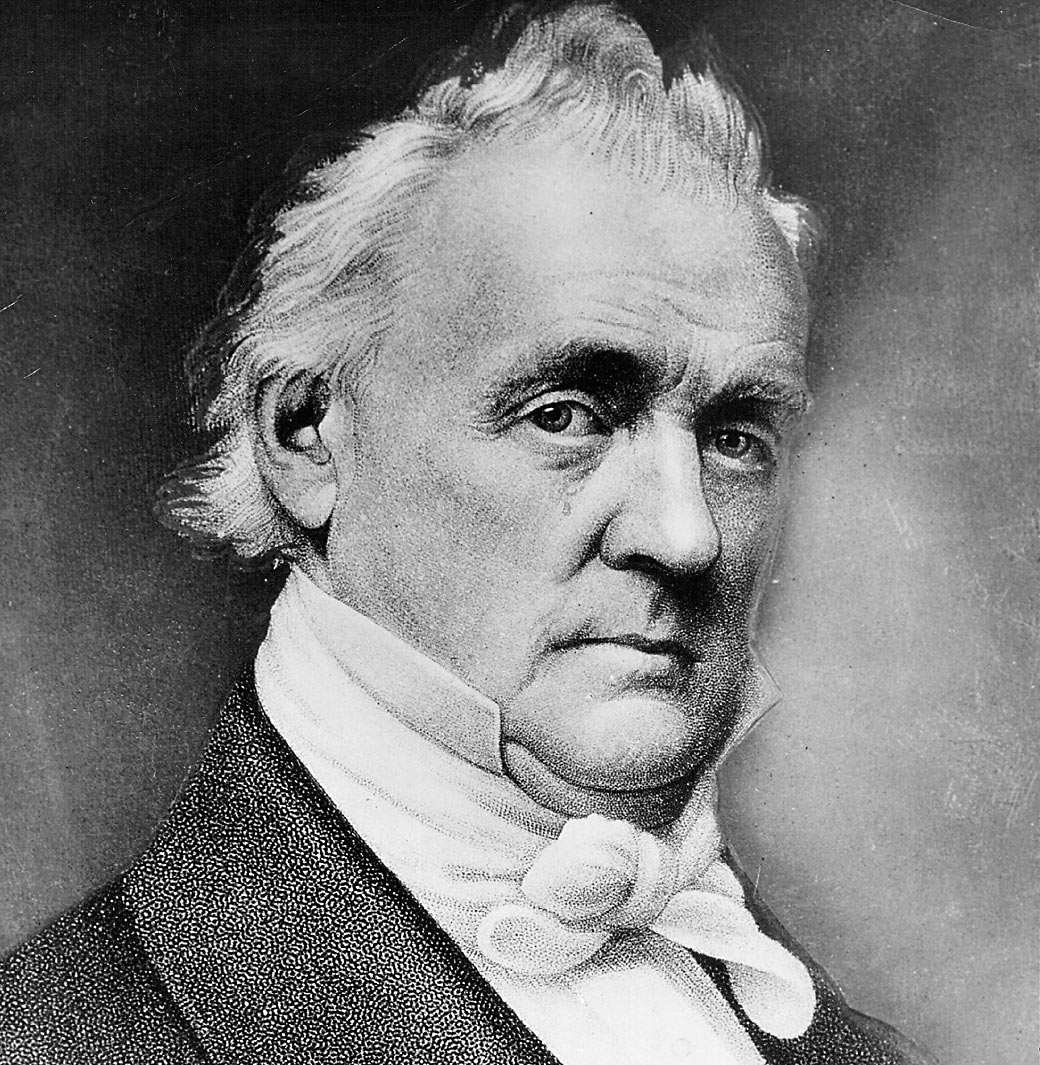 James Buchanan:
Not a Halloween celebrant
Halloween has traveled a long path from its origins as an ancient Celtic festival to its current incarnation as a secular candy-grab. During President James Buchanan's lifetime, awareness in Lancaster of the celebration ranged from limited to non-existent.
That said, during the later decades of the nineteenth century, which were characterized by massive waves of immigrants, including millions of Irish, who brought new traditions to America's shores, consciousness of this interesting autumnal celebration grew. Though the observation of Halloween originally carried heavy religious overtones, many of those associations were quickly abandoned, as the holiday morphed into one focused on community and fun.
It's interesting to note that President Buchanan's niece, Harriet Lane, and his nephew, James Buchanan Henry, lived into the era when Halloween became popularized. Although they didn't leave behind any known remarks on the subject, it's fun to wonder what they thought of it!
Though Americans weren't dressing up in fancy costumes for Halloween during James Buchanan's lifetime, it would be completely remiss to overlook the grand 19th-century tradition of the fancy dress party, which honestly may have been even more fun than the modern observance of Halloween.
A "Fancy Dress" party is an elaborate costume party and ball, and people during Buchanan's lifetime were mad for them! The amount of work, dedication, and detail that went into Victorian fancy dress costumes would put 99% of today's Halloween costumes to utter shame. Popular costumes ranged from historical figures to allegory to just plain silly.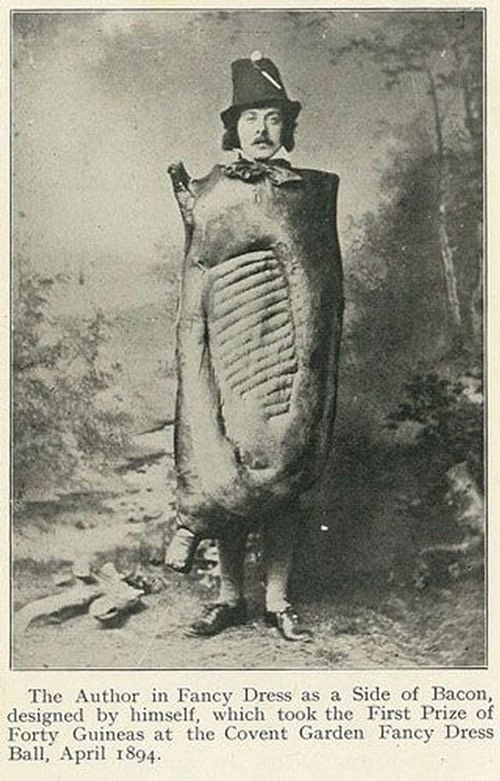 A Victorian-era fancy dress costume that might fall under the category of "silly" : A Side of Bacon! Queen Victoria and Prince Albert were fans of fancy dress, and helped to popularize it both in Britain and America. The characteristic elements of a fancy dress party were fun, fantasy, food, and friends, and attendees spent hours upon hours perfecting their costumes down to the tiniest details.
Although I cannot tell you if President Buchanan ever indulged in such an extravagant pastime, I can assure you that he was well aware of the fad. In a letter to one of his nieces, Miss Henrietta Buchanan, Buchanan provided an offhand and uncharacteristically snarky remark on the political-racial state of affairs in America at the time (1867), while commenting on her upcoming opportunity to dress in costume.
Buchanan said, "You might be dressed up in character & enact the part of the genius of America. Your robes might be a happy blending of white & black."[1] The remark very clearly indicates Buchanan's displeasure at the progress of Reconstruction following the Civil War, but that is another post for another day. Of course, I can't help but replay the classic "Look to the cookie" speech in my brain. If only James Buchanan had known the wisdom of Jerry Seinfeld …
Buchanan's niece and First Lady, Miss Harriet Lane, enjoyed the pleasures of a fancy dress party as well, though during her time in the White House, there were many parties she could not attend, due to restrictions of propriety which prevented the Lady of the White House from attending a private citizen's party. Though Miss Lane and Mr. Buchanan did not attend in costume the party described below, they had the pleasure of previewing some of the other attendees' costumes prior to the event:
On this occasion, as depicted in the entertaining memoirs of Virginia Clay-Clopton, Miss Lane called her friends to the White House to show her their "pretty dresses" before they departed for a fancy dress ball. The party was held at Mrs. Gwin's Washington home, and according to Clay-Clopton, "Mrs. Gwin's fancy ball […] remained one of the most brilliant episodes in the annals of ante-bellum days in the capital."[2] At Miss Harriet Lane's request, Mrs. Clay and several other friends stopped by the White House to demonstrate their clever costumes for the First Lady and President Buchanan – much to the delight of both parties.
Mrs. Clay's description of her own costume for the party indicates the intricate detail that attendees of fancy dress balls put into each element of their attire. Mrs. Clay attended the party disguised as "Aunt Ruthy," a character from the humorous writings of Benjamin Shillaber. (Fun historic tidbit: Shillaber's "Mrs. Ruth Partington" character would later inspire Mark Twain's famous depiction of Tom Sawyer's Aunt Polly). Here's what Mrs. Clay had to say about her costume:
"My costume was ingeniously devised. It consisted of a plain black alpaca dress and black satin apron; stockings as blue as a certain pair of indigos I have previously described, and large, loose-fitting buskin shoes. Over my soft grey front piece I wore a high-crowned cap, which, finished with a prim ruff, set closely around the face. On the top was a diminutive bow of narrowest ribbon, while ties of similarly economical width secured it under the chin. My disguise was further completed by a pair of stone-cutter's glasses with nickel rims, which entirely concealed my eyes. A white kerchief was drawn primly over my shoulders, and was secured by a huge medallion pin, in which was encased the likeness, as large as the palm of my hand, of 'my poor Paul.'
On my arm I carried a reticule in which were various herbs, elecampane and catnip, and other homely remedies, and a handkerchief in brilliant colours on which was printed with fearless and emphatic type the Declaration of Independence. This bit of 'stage property' was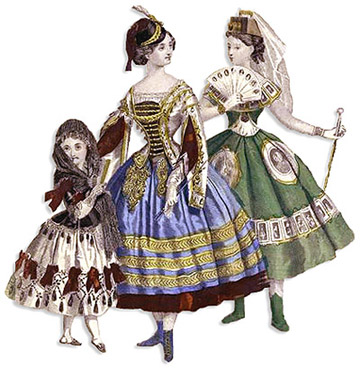 A classic example of Victorian Fancy Dress. Note the "Personification of Photography" at right. used ostentatiously betimes, especially when Aunt Ruthy's tears were called forth by some sad allusion to her lost 'Paul.' In my apron pocket was an antique snuff-box which had been presented to me, as I afterward told Senator Seward, by the Governor of Rhode Island, 'a lover of the Kawnstitution, Sir.'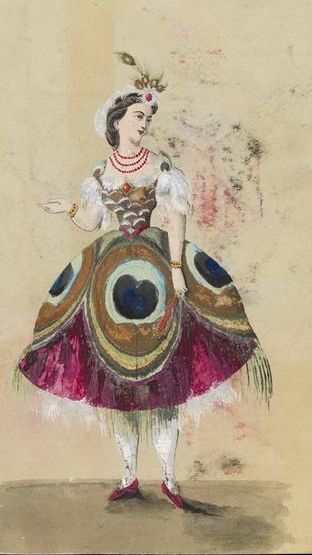 But, that nothing might be lacking, behind me trotted my boy, 'Ike,' dear little 'Jimmy' Sandidge (son of the member from Louisiana), aged ten, who for days, in the secrecy of my parlour, I had drilled in the aid he was to lend me. He was a wonderful little second […]."[3]
Mrs. Clay noted, "My disguise was soon so perfect that my friend Mrs. L.Q.C. Lamar, who came in shortly after the ordeal of making-up was over, utterly failed to recognize me in the country woman before her. She looked about the room with a slight reserve aroused by finding herself thus in the presence of a stranger, and asked of Emily, "Where is Mrs. Clay?" At this my cousins burst into merry laughter, in which Mrs. Lamar joined when assured of my identity."[4]
Others at the same party dressed in costumes such as "The Star-Spangled Banner" (worn by Mrs. Pendleton, the daughter of Francis Scott Key), members of the ancient royal Courts, and notable characters from literature. Mrs. Clay explained, "For weeks after its occurrence the local photograph and daguerreotype galleries were thronged with patrons who wished to be portrayed in the costumes they had worn up on the great occasion […]."[5]It seems to me that Harriet Lane and James Buchanan missed an awfully good party, all for the sake of propriety!
The popularity of fancy dress balls lasted into the early years of the 20th century, although it eventually faded. (Incidentally, the term "fancy dress" is still widely used in England when referencing costume parties).Today, costume parties are largely limited to the month of October, with the occasional fanciful outlier. So, costume-up, my friends! Seize the moment and don't let this Halloween pass you by. But, if it does, just know that you can host a Victorian fancy dress ball any time … maybe it will be the Next Big Thing!
-JW
PS – Historic Costumer Lindsey Slaugh expertly recreated a Fancy Dress costume of the "Personification of Photography" (depicted in a fashion plate shown above) for a fancy dress event earlier this year. Check out her posts on the subject!
PPS - You know I love to hear from you, dear reader. Holla at me!
---