Take the One-Room Schoolhouse Tour
Written by Barry Rauhauser

Category: Featured Stories
Created: 06 April 2011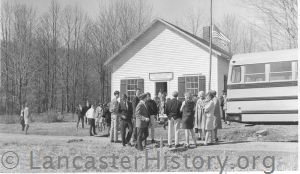 "Jump on the Bus Gus" and take the little yellow school bus tour of one-room schoolhouses with Ginger Shelley on Saturday, May 7, 2011. Sponsored by LancasterHistory.org, the tour begins in Strasburg at the Bunker Hill School and runs from 10 am to 2:30 pm. Pack your picnic lunch to enjoy at one of your stops. Participants will become 1890's students, learn about the common school movement, and have a lesson at several schools during the tour.
Featured schools include:
Bunker Hill School, now the Strasburg Township Municipal Building.
Sandstone School, built in 1815 as a pay school before it became a public school and holds the record as the oldest public school, continually in use, in Pennsylvania.
Walnut Run School, owned by the Lampeter-Strasburg School District and was the last public one-room school to close in Pennsylvania.
Maple Croft School, used as a bar, restaurant and shops since it was sold as a public school.
Winter Hill School, now a residence that retains the look of a little red schoolhouse.
Bausman School, a one-room school that added a second schoolroom when the village of Bausman grew and now serves as a residence.
In addition, approximately 10 former schoolhouses will be identified along the tour route.
Here are locations of the schools for the tour. We won't be able to finalize the exact route until closer to the date of the tour, but this map gives an idea of the vicinity in which we will be travelling.

The tour begins at Bunker Hill School, 400 Bunker Hill Rd., Strasburg,PA. Detailed directions will be sent to registrants. A yellow school bus will provide transportation; do pack your lunch. Cost of the tour is $25.