Culture rarely stands still. New ideas are formed, new cultures arrive, new inventions are adopted. The people that shape and are shaped by culture are in a constant state of reaction and adaptation. The result is a history of turmoil and transition. This is true of Lancaster County and the nation. It is often within the times of greatest turmoil and transitions that we learn the most about what it means to be American. It is then that we learn what lies at the core of our uniquely American worldview. It is during those times of turmoil and transition, while our worldviews seem to be changing dramitcally, that we discover some ideals do, in fact, remain the same. These ideals—liberty & freedom, tolerance & diversity, democracy & the political process—were molded and shaped in Lancaster County, Pennsylvania.
---
Lancaster's Role in the Civil War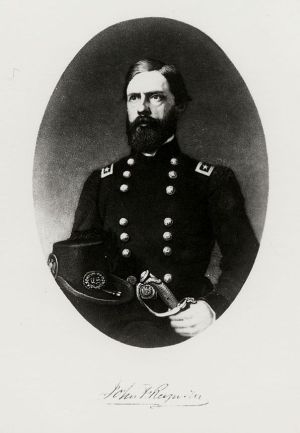 Goods and supplies from Lancaster not only were vital to the war effort, they provided a strong economic stimulus for the city. Contracts for horses, rifles, wagons, textiles, leather goods, and grain kept the economy strong during the Civil War. Gunmaker Henry Leman had an $800,000 contract to repair muskets. S.S. Cox & Co. Coach Manufacturers of Lancaster had a contract to supply 100 army wagons. John Dellinger & Co. had an order for 20,000 flannel shirts at 85 cents each. David Bair had an order for 20,000 Canton Flannel drawers at 41 cents each.
General John Fulton Reynolds was considered by both the Union and Confederate armies to be the best general in the Union Army. His distinguished military career included the Battle of Chancellorsville, the second Battle of Bull Run, and the Battle of Gettysburg.
Regarded as the finest infantry company in Pennsylvania, The Lancaster Fencibles were among the first volunteers to take arms. The Lancaster Fencibles still actively organize as reenactors.