John Frederick Steinman, Sr. (1752-1823)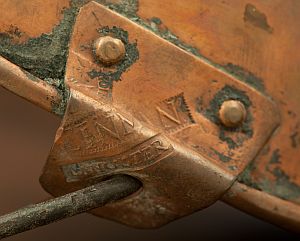 When his father died in 1758, John Frederick Steinman, Sr. (1752-1823) moved with his mother to Lititz from his birthplace, Bethlehem, Pennsylvania. His mother remarried a few years afterwards to John Christophe Heyne, a tinsmith and pewterer from Lancaster.
Pewter and Copper Goods and Other Sundry Items
While Heyne and Steinman are both recognized ifor the metal objects they crafted, they also created something else unique in Lancaster City. In 1744 John Christophe Heyne first opened the door of his shop and began keeping records of his business. John Frederick Steinman, Sr. worked and learned the metal-working trades alongside of Heyne and would take over this shop until Heyne's death in 1781. This shop not only produced goods such as these kettles and Heyne's pewter, but also served as a hardware store to the surrounding area.
Oldest Hardware Store in America
This hardware store would become The Steinman Hardware Company. The store provided supplies for the Continental Army during the American Revolution and would celebrate the end of World War II. The hardware store was run as a partnership by members of the Steinman family until it incorporated in 1900. When it closed in 1966, it was the oldest hardware store in America.