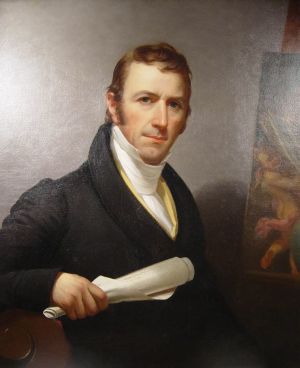 Self Portrait, Jacob Eichholtz, 1825
Collection of LancasterHistory.org
Gift of Joan C. Dubbs, Barbara Hall, June MacLennan and Mark Dubbs.
Given in Memory of Joyce and Henry DubbsJacob Eichholtz inhabited many worlds. He was of German ancestry in a modernizing society where the importance of ethnic heritage waned with each passing generation. Trained to succeed in the world as a coppersmith, he longed to enter the world of art. Though born and raised in Lancaster, he felt most at home in cosmopolitan Philadelphia.
Jacob Eichholtz (1776-1842), a young coppersmith and sign painter, taught himself to become a portrait artist. During his lifetime, he achieved considerable financial success and peer recognition painting a rising middle class and their families.
Jacob Eichholtz, born into the third generation of a prosperous family of Pennsylvania Germans, lived in a community where 75 percent of its inhabitants spoke German. Yet, by the time of his death in 1842, little about his life hearkened back to his family's Germanic roots. Jacob Eichholtz's life spanned from the American Revolution to the Industrial Revolution and from the diverse traditions that defined early German immigrant life to the emergence of a truly American middle class.
Jacob Eichholtz's parents owned and operated one of Lancaster's many taverns. In the late eighteenth century, tavern life lay at the center of commerce and society in every American city, village, and country crossroad. Jacob's parents, Leonard and Catharine Eichholtz, owned the Bull's Head Tavern on East King Street, one block off the center square. There young Jacob glimpsed a more cosmopolitan world than many of his peers. He grew up amidst the discourse of politicians, the banter of travelers, and celebrations of local and national events.
Jacob Eichholtz apprenticed as a coppersmith, but he began his career as a "tinman" crafting objects from rolled sheet iron. Making copper hollowware objects, such as a teakettle, required great skill obtained through years of experience and practice. Eichholtz identified himself as a "tinman" through 1806 and as a "coppersmith" in the Lancaster City tax records after 1807.
In 1803, Jacob married Catharine Hatz Michael, a widow and mother of two children. By 1805 he was working in his own shop on East King Street next to his parent's tavern. There, like all artisans trained in a skill requiring manual dexterity, he perfected his skills as he mended sugar boxes, tinned copper kettles, and made coffee pots, wash basins, lanterns, stills, and funnels.
By the summer of 1809, Eichholtz had hired a journeyman coppersmith, W. Bryan, and taken on an apprentice, Samuel Kelso. Within two years, he had hired an additional journeyman, Samuel Davis, and a tinplate worker, John Reitz. The larger workforce enabled Eichholtz to shift more of his time to painting.
As Eichholtz's interests turned toward art, he began painting small profile portraits of his fellow Lancastrians. By creating a reasonably affordable product, Eichholtz succeeded in marketing himself as Lancaster's portrait painter. Profile portraits became Eichholtz's stock-in-trade during his early period, approximately 1808 to 1812. These small oil paintings on wood panels, with their sharp linear quality devoid of subtle gradations of light and color, were simple "likenesses" intended for household display. Their size and portability call to mind the more intimate miniature portrait tradition. Profiles may have been a feature of his artistic repertoire for only a few years, but they were instrumental in moving him toward the painter that he envisioned himself to be.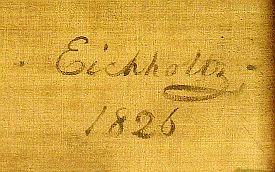 By 1810 Eichholtz was moving away from profile painting to embrace the more standard bust portraits executed on 30- by 25-inch canvases. Eichholtz traveled in late 1811 or early 1812 to Boston to the studio of Gilbert Stuart, America's premiere portrait artist. Eichholtz spent several weeks learning from the master. Ready to leave the world of copper and tin, he turned his attention fully to the work of painting. Eichholtz soon established himself as Lancaster's portrait painter.
After ten years painting in Lancaster and the mid-Atlantic region, Eichholtz settled in Philadelphia with his family in 1823. While residing in Philadelphia, Eichholtz continued to paint fellow Lancastrians. In fact, almost one third of the paintings he completed while living in Philadelphia featured sitters from Lancaster, Harrisburg, and the surrounding region. Eichholtz returned to Lancaster in 1830 and died there in 1842.