written by Elizabeth McIlhenney, Archives Volunteer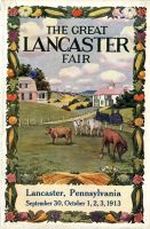 LancasterHistory.org is home to the extensive Farmers' Fair Collection. The collection contains premium lists, fliers, stock certificates, entry blanks, and much more memorabilia from Farmers' Fairs in Lancaster county spanning many years. The earliest premium list being from 1888. In many of the earlier premium lists, there is a written introduction discussing the fair and its importance.
In the 1888 premium list, in an introductory "To the public" section, the unknown author writes, "with the richest agricultural district in the world (the tobacco crop alone having reached $3,000,000 in one year) it ought to be a great fair." $3,000,000 in 1888 is equivalent to 75,000,000 in 2015, which is quite a hefty sum of money. The fair featured many different exhibitions in 1888, from departments listing premiums for horses, cattle, sheep, and swine to embroidery, painting and decorative art, carriages, agricultural implements, ladies' handiwork, and food items such as fruits, vegetables, and grains. There were also "Grand Special Premiums" listed. For example, in the 1889 premium list, The New Era Publishers offered a contest for the "best loaf of bread made and baked by a farmer's daughter under fifteen years of age," the "best specimen of improved breed of fowls, raised by a farmer's son or daughter under 15 years of age," and other offerings. Many other "Grand Special Premiums" were offered by other companies, such as B.J. McGrann's contest for "$50 in money to a lady of 21 years or under, city or county, writing the best essay on "Corn and its Uses."