Imagine your surprise as a chicken is chased through the restaurant in which you are dining. Or the surprise of receiving a bill for the damages caused by your daughter. Needless to say, it was an exciting day for all. Mr. Samuel O. Frantz had two daughters, Gertrude Frantz Stauffer and Myrtle Frantz Neff.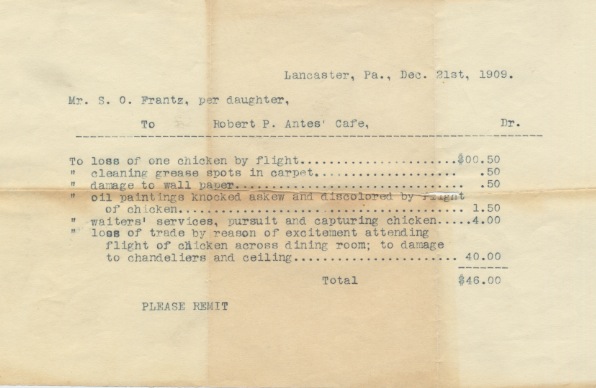 Transcript:
Mr. S. O. Frantz, per daughter,
To Robert P. Antes' Café, Dr.
To loss of one chicken by flight $00.50
" cleaning greasespots in carpet .50
" damage to wall paper .50
" oil paintings knocked askew and discolored by flight of chicken 1.50
" waiters' services, pursuit and capturing chicken 4.00
" loss of trade by reason of excitement attending flight of chicken
across dining room; to damage to chandeliers and ceiling 40.00
Total $46.00
This item is from MG-397 Sarah Ann Stauffer Collection, Series 4 Frantz Family Papers. Series 4 is not yet cataloged, so for more information please contact Heather Tennies.